A Guide for Buying a Men's Leather Belt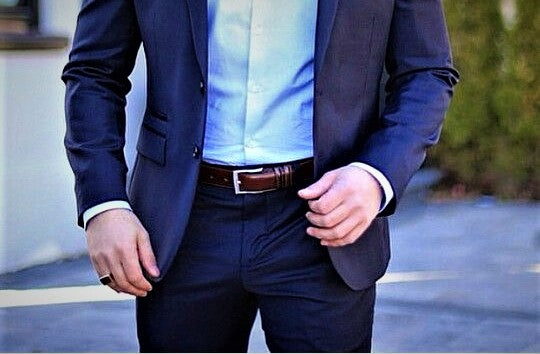 Purchasing a leather belt can quickly become an overwhelming experience as hundreds of products flood the market. It's not only about the form of the belt—it's also about the fit, the durability, and the quality of cowhide. We will guide you with your belt purchasing experience by giving you all the information you may need to choose this unique men's accessory.
The ideal leather belt is comfortable, long-lasting, and stylish enough to enhance your overall look. The important thing is to differentiate premium quality men's leather belts from low-quality alternatives. Below you'll learn how to discern the two when buying your next leather belt.
Categories of Men's Leather Belts
When you're shopping for leather belts, you'll notice two categories of leather belts, including dress and casual belts.
In general, dress belts are belts you'd wear with slacks to a professional or formal event. In these settings, the Dress belt is made to be readily visible by tucking in a shirt. As such, the belt needs to look good and fit comfortably.
Similarly, casual belts are worn with other pants, including jeans, shorts, and even slacks. Casual belts are typically not front and center, as the shirt would be untucked.
As you can see, the above two types of belts are typically determined by the occasion. Some designers will purposely construct the belt differently by providing a longer tail for casual belts and a shorter tail for dress leather belts.
Lastly, leather belts can come in a wide array of colors. You should always have your dress belt match your shoes for a consistent and elegant look. Casual belts can be worn with any color combination, and we encourage you to let your preferences shine here.
We offer more than your typical dull black or brown leather belt with neutral stitching options than other brands. You can choose from blue, white, purple, green, yellow, black, cognac, and more leather options. Also, you can mix and match with vibrant colored stitching options.
How to find the best quality leather belt
When you visit either a large or boutique men's retailer, you'll find dozens of different belt options. So how do you find out which belt is right for you?
When looking to purchase a belt, you should consider the following:
The grain of leather used

Color and stitching of the belt

Width of the belt

The pattern of the belt

The belt buckle

Sizing of the belt
The Grain of the Leather Belt
The grain of leather will determine the texture, pattern, and quality of the leather used in the construction of the belt. In general, you should always look for full-grain leather as it is the highest quality grade of leather you can find. This leather is obtained from the top layer of the cowhide and demonstrates the leather's natural grain.
Top-grain leather is an alternative to full-grain and is regarded as the second-highest grade of leather you can buy. However, this kind of leather has the outermost layer of the hide removed, making the leather thinner and less durable.
Other leathers may include bonded or corrected grain, which you should avoid at all costs. These leathers will have an inferior feel to them and will demonstrate wear and tear quickly.
The Color of the Belt
When choosing a leather belt, you should always look to find a belt that matches your personal preferences. Modern dapper men design their casual or dress belts to have a pop of color—for instance, a black Italian leather belt with cobalt stitching.
Belt Width, Patterns & Buckle
When shopping for belts, it's pretty common for casual belts to be wider than formal belts. We've found that our customers, especially golf professionals and golf enthusiasts, prefer our size 40mm because of its more prominent and casual look. Our size 35mm is designed to be more subtle but stylish for various occasions that call for a dress belt.
Like color and width, the pattern of the belt is a matter of personal preference and taste. Some will prefer the smoothness of our Italian calf belts, and others will want the unique look of our mock gator leather belts. It's entirely all up to you and your stylistic needs.
For the belt buckle, you'll want something that subtly complements the leather belt. All of our leather belts are equipped with solid brass palladium plated Italian buckles for a timeless look.
Sizing your Leather Belt
Determining the size of your belt when shopping online can be difficult, as every brand does it differently.
We recommend you size your leather belt by purchasing a size larger than your pant waist size. In general, our recommendation is to buy a belt one size larger than your current pant size for the perfect fit. If you wear a size 34, purchase a size 36 for an optimal fit on the third loop of the belt tail.
Storing Your Leather Belt
It's common to find leather belts hanging off the rack at a department store. We recommend rolling up your belt and storing it away in a safe compartment within your closet or our travel pouch.
Make sure to care for your leather belts using a leather cleaner when any stains or marks appear on them after some time of wear.
Custom Belts Made Just For You
Sometimes you want to create the perfect fit and look but can't find what you're looking for at a department store. That's where customizing your leather belt to match any outfit becomes an appealing option. 
Conclusion
It may be daunting when shopping around for a leather belt, but it can also be a seamless experience if you buy from a brand that intimately cares about your style needs.