How to Clean Leather Jackets?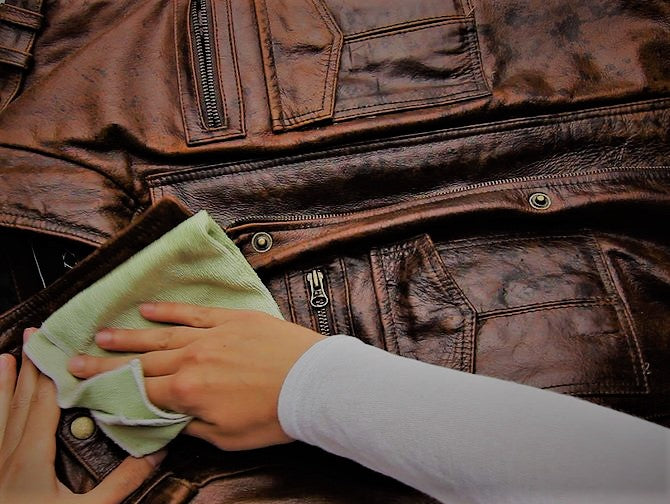 You may be proud of having an excellent leather jacket. Perhaps even having many leather jackets, including suede or other styles, such as leather biker jackets. Yet it hadn't revealed on you until now or relatively recently how to clean leather jackets. Ultimately, it allows you to continue flaunting the style and benefits of a leather jacket that looks as fresh as new.
This post covers the following simple yet very effective ways to clean your leather jacket and more.
Cleaning Leather Jackets at Home
Cleaning a leather jacket is not as hard as it seems. However, there are few things you need to remember before you start the cleaning process.
Check the Labels
Before jumping into this critical subject, it would be wise to check the labels inside your leather jacket. You will often find care instructions and, many times, detailed cleaning pointers that can be positively useful.
We often don't know the exact type of leather we have, the processes or treatments that have been used, and so ignoring cautions while cleaning could be a bad idea for some. Care labels and instructions help you to avoid loss.
Know the Type of Leather
First off, it is essential to know the type of cowhide you are going to clean. It will help you choose the appropriate cleaning products and methods best suited to the particular kind. Always ask for details about the leather jacket when you buy it.
Natural or unprocessed leather does not have any protective coating. However, processed leather products do. A wise tip that can guide you is to touch the leather and notice if it is soft or hard. Soft leather is untreated. Treated leather has a coating that makes it feel like plastic.
It is also essential to know that treated leather is easier to clean as natural or untreated leather changes color after washing. Extra care is required while cleaning any genuine leather.
Dust the leather off
Start by dusting the leather product using a soft cloth or brush and wipe away any dirt or oil build-ups. It's better to wipe over the whole surface of the jacket, mainly the corners that may collect dust in them. Again, a circular motion is best to avoid any damage to the product.
Leather Cleaning Solutions
Apply some leather cleaning solution according to the type of leather you will clean on a soft rag. It is essential to go through the instructions on cleaner packaging for further details to know if the solution is suitable for the type of leather you are about to clean.
For old leather finishes, a methylated spirit is a great option. Whereas, for bags and jackets, a gentle soap and water solution works better, which you can use sparsely and in a rotary motion over the surface of the leather jacket.
Condition the Leather
Next, you need to thoroughly condition your leather jacket until you feel it's soft and pliable. Again, be sure to go for quality while paying for a leather conditioner.
Apart from cleaning your leather jacket, a leather conditioner can also be used when your coat has to bear rain or snow to avoid harm and boost softness.
Before trying this, conduct a color test to ensure the colorfastness of the leather by using a clean, white cloth on an inner spot of leather. If color transfers to the fabric, the dye is NOT stable on the leather. Therefore you should not proceed.
How to Eliminate Odour from Leather Jackets
Dealing with any foul odor in your leather jacket can be efficiently dealt with using vinegar. But, remember that a product that may work for one type of leather jacket may not be suitable for another, so every time, conduct a spot test to avoid any loss.
Use equal portions of vinegar in a spray bottle. You can also use a soft, clean fabric to apply the mixture. Soak it with the solution and rub it onto the outer surface of your leather jacket.
The acid in the vinegar removes the odor until you find no bad smell lurking around at all. Then, the smell of vinegar will go away as well.
You can use baking soda for the inner part of your leather jacket, such as the lining. Again, being a safe ingredient, you may use baking soda. For this process, you need to sprinkle a good amount of baking soda into a pillowcase or spacious zip-lock bag and place your leather jacket into this, and close.Leave overnight or for 24 hours. When it is up, you can remove your leather jacket and clean it with a cloth. 
Cleaning your Leather Jacket Lining at Home
When dealing with any odor on the interior of your leather outfit, like the lining, you can use the following methods. The first one is airing out your leather jacket, keeping it away from sunlight or any heat, and permitting it to air out naturally.Another thing that you can do by using baking soda is to sprinkle baking soda on the lining of your cowhide jacket and then spray lukewarm water to mist the areas. Leave it on for about 20 minutes of work. When the baking soda is dry, simply take a clean, damp cloth and dust off the residue. Let it dry well before use.
Conduct a test spot before starting the procedure. For example, cleaning your leather jacket lining may require some mild detergent that works for most types of fabrics and jacket liners. After mixing a gentle detergent with some water until the powder dissolves, dip a clean sponge into the solution. Rub the lining, particularly the underarm areas. Once you complete, rinse out the sponge properly and soak it again with clean, plain water. Finally, use the sponge to rinse the portions of the lining you cleaned down.
When this is complete, hang your leather jacket on a padded hanger or a solid wooden hanger and leave it to dry naturally. Again, keep away from sunlight or any heat source in or out of the house.