How To Style A Leather Vest To Create Different Looks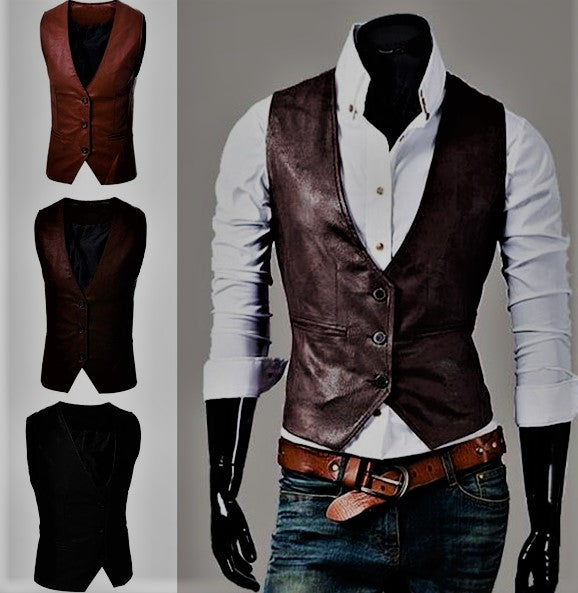 You have to acknowledge that the vest is something that is less appreciated. If you are still unfamiliar with it, it is actually an outfit that is without sleeves and is sported and covers up the owner's upper body. However, the leather vest is much more complex than what that explanation proposes. It is offered in many different materials, out of which we will be discussing leather here.
Dressing in one comes beside many subjects such as should I wear a tie with it? Which color would suit best with what? Which kind goes better with the formal dressing and which one with the informal? Will it be better with a Leather Vest?
No need to worry anymore; we are here providing a guideline to get the best out of your leather vest.



THE CONVENTIONAL BROWN LEATHER VEST


We start our tour with the most widespread use, which everyone is acquainted with. The leather vest for men is used here in a three-piece suit for ceremonial dressing like at office, attending a conference, a seminar, or an official meeting as we see in Batman vs. Superman, Ben Affleck's flaunting a Blue Vest.
The basic rule you need to remember when doing any other color of a three-piece suit. It should be marginally lighter even though the shirt should be white; choose a tie based on your selected color.



THE INFORMAL LOOK


At times you would roam about the street for a cup of coffee or just hang up with your mates and co-workers. For these meet-ups, you should know how to layer a vest informally. But, unfortunately, there are no hard and fast rules to observe regarding the color, fabric type, or any of that gabble. Simply get one with multipurpose qualities, like black, brown, or blue shades with not much of a serious tone. The vest you will purchase also does not have to be too chic; a simple one will work better as it is already gaining the spotlight. It is essential that the shirt underneath fits you nicely if you want this to work best.



WEDDING


A wedding is a significant occasion loved by all and yet tarnished for being a problem regarding the perplexity it generates amongst masses who do not know how to dress up. Most would tell you that the same conventional theme-based suit you wore for your official meetings is the best here. But that is ludicrous; yes, it is feasible but not suggested.
The formal three-piece suit casts a profound impression, which isn't good to exhibit at a wedding. The major difference between the two is that this outfit has more eye-catching colors, and this wedding dressing is also designed entirely in the shades of a single color. The vest here is different from the conventional one as it has to be darker in shades.



THE PUNK LOOK


The cut-off and a particular type of vest, not so common. On the very first look, you would identify it as seen on the followers of the punk society. Therefore, it may not be your piece of cake. However, you would be amazed by the way it looks on you.
Either you are a punk or not, this apparel has been seen as a mark of beauty on and off in the past. Bikers with a good sense of style have seen pitching in it. You won't imagine what you like up until you give it a try; what are you waiting for now?



WITH JEANS


If you are thinking of pairing a leather vest with jeans, the foremost thing you need to notice is the fitting of your vest. It shouldn't be slouchy on you. The second thing, you should be clear with your goal when coming up with your outfit. Are you trying to look casual semi-formal in form?
For a formal appearance, follow some rules to attain a 'laid-back look, like leaving the last buttons undone and having a brighter colored one.
However,, for informal attire,, a light color code with both the vest and the pants should be stitched to fit you properly and provide you that sleek look that is necessary for semi-formal composition.

Well, folks, we discussed all about the leather vests for men. I hope I covered the almost full range of it, but still, if I have missed a bit; please do mention it in the comments so that I can write about it and make this blog even more beneficial.
Spread the love!!