How To Wear Long Leather Gloves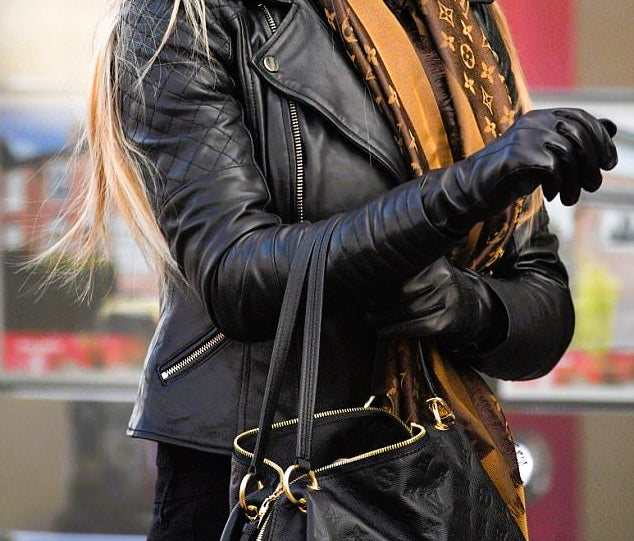 Long leather gloves look amazingly chic. You can wear them on relaxed strolls in the countryside or out and about in the city; they can be teamed with elegant evening wear or as part of a casual yet sophisticated day outfit; to the office or social events. Long leather gloves are pretty versatile. They are also hard-wearing, nicely warm, and have a beautiful cut. Some gloves are lined with cashmere providing extra warmth and comfort, and some have smooth silk linings that feel soft and comfy on the skin.
 Tips for wearing leather gloves
 Leather gloves can look remarkably stylish, but you need to follow a few rules if you want to attain the look.
Do not wear them with long sleeves – leather gloves look great when they naturally ruche up. It's better not to add extra fabric. Short-length sleeves are best, as are capes and cloaks.
Do not wear them with long boots – when there is a risk of looking like a musketeer, it is better to keep it soft and avoid long leather boots.
 Limiting other statement accessories will keep your gloves prominent – a few subtle accessories can go together. However, do not add too much to your look. For example, long leather gloves are a statement look and need a paired-down palette to shine.
Everyday Look
Flaunt your long leather gloves with a warm coat, cape, or cloak. Projections allow you to show the glove and exhibit your layers. Going with a softer cape in caramel or cream shades will help you avoid a gothic look. Give your look a final touch with a cashmere beanie and a simple black cowhide clutch bag for a beautiful, versatile pair of long leather gloves best for this look.
Party Time
 Leather gives a beautiful twist to the custom cocktail glove. This look is best for strapless gowns or short-sleeved outfits. It's the unique way to flaunt a toned bicep. Try a black satin dress for a timeless look or something in a rich jewel tone for a little more color. Leather Gloves are simply giving you a chic cocktail party look. Add an elegant but striking piece of jewelry to finish the look.
Office Time
A crisp white linen blouse with quarter sleeves, a silk scarf, and a woolen skirt in tweed or this season's pattern, make for a highly sophisticated work outfit. Add some pearl studs and long leather gloves, and you have the perfect office look. You may not type in your gloves, but they'll ensure that you turn up for work with warm fingers and severe helpings of style. If your job does not require typing, then leather gloves can add excellent drama to your look. They can also add a spirit of authority and are ideal for lunch meetings and presentations to attract attention to your gestures. 
 If you have not got long leather gloves this season, this is the perfect time to try them out. First, opt for something classic and versatile black that can be worn on several occasions. Then, once you get a feel for the added style twists and the unique chic that the best quality pair of long leather gloves can offer, you'll be craving to buy another pair.