Leather Shirts, A Style Statement in 2021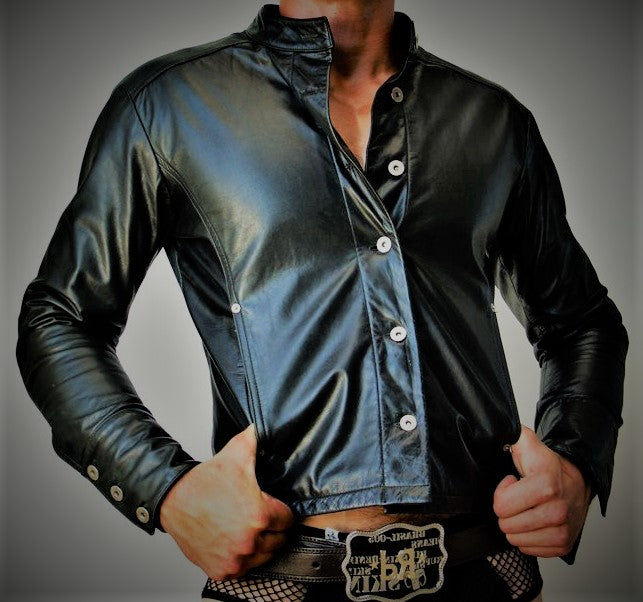 When you consider purchasing leather garments, bomber-style leather jackets come to your mind. After all, leather jackets are one of the most renowned men's and women's over-clothes styles. Showcasing a genuine leather creation, they've been around for nearly an era. Since then, leather jackets have only become more and more trendy.In current years, though, leather shirts have gained a unique status among fashion-conscious folks. Like conventional leather jackets, they are made of genuine leather. The only difference is that you wear leather without anything underneath, but leather jackets are layered with another shirt or top beneath. You can understand more about leather shirts by going through the following guide on this chic and innovative leather garment.
What are leather shirts made of?
Genuine leather is used to tailor these shirts; having said that, several types of leather are used to create leather shirts, each with its unique characteristics. For example, some varieties of leather are smoother, and some are harder and rougher. Hence, if you're looking for a greater comfort level, you should pick a leather shirt made of high-quality, genuine leather.Remember that faux leather shirts aren't manufactured with genuine leather. Instead, they are made of a synthetic fabric designed to copy genuine leather's appearance and qualities as a substitute. Therefore, you can get a faux leather shirt at a lesser price than a genuine leather shirt.
Leather shirt colors
You might be skeptical about what colors of leather shirts are available in the market. Well, to surprise you, black and brown are the two most popular colors for leather shirts. Brown leather shirts provide a classic outlook that matches most other colors, whereas black leather shirts offer a somewhat more modern look that matches most other colors.But don't worry, leather shirts are available in many other colors too. Some people prefer white leather shirts, for example. Just like black and brown, white is also a classic color that matches nearly every other color. But, leather shirts are made in many different colors too.
Half-sleeve vs. Full-sleeve leather shirts
Both kinds of leather shirts are available. You are free to pick the right one for you, depending on when and where you want to wear your leather shirt. If you're going to flaunt it during the summer and spring months, for example, you better choose a short-sleeve leather shirt. But, if you're thinking of wearing it during the fall and winter, then you should most likely pick a long-sleeve leather shirt. It will help you stay cool during the spring and summer and warm during the fall and winter.
What pants to pair with a leather shirt?
The greatest thing about leather shirts is they are highly versatile. In other words, you can style them with a variety of garments.Leather pants are a great choice to pair with a leather shirt. Being tailored with the same material, they'll match pretty much. It would be best if you tried denim jeans with a leather shirt too. A pair of high-quality denim jeans gives a classic and timeless style that harmonizes the appearance of a leather shirt.
How to take care of a leather shirt
If you have decided to adorn your closet with a leather shirt, you need to know how to take care of it. First, remember that genuine leather outfits can't be washed in a washing machine. Try to clean your leather shirt in the washing machine may theoretically clean it, but it may cause permanent damage as well. Therefore, it's better to avoid such washing. When you find a stain or blemish on your leather shirt, use warm water and mild dish soap to clean it. Start by soaking a clean washcloth with warm water. Next, put some drops of gentle dish soap on it. Finally, use the damp washcloth to clean the surface of your leather shirt. With a bit of work, you can clean most stains and blemishes using this method.Applying a leather conditioner once a month will keep your leather shirt fresh like new.