The Wonderful Styles for Leather Vest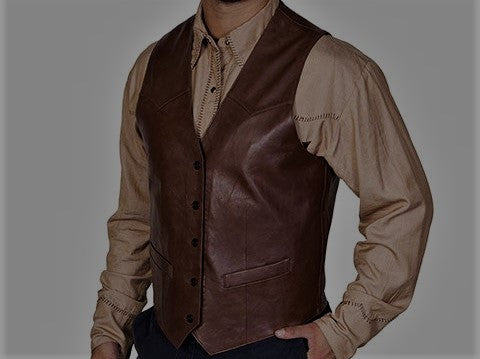 We know that the vest is an underrated outfit. If you have been living in ignorance, and you do not know what it is, it is an outfit that is sleeveless and covers the chest. However, the leather vest is much more perplexed than that explanation. It is tailored in different materials, out of which we will discuss leather today.
Might you have any queries such as should I wear a tie with it? Which color would suit what? Which type can I wear with the formal clothing and which one with the casual? Can it be better than The Warriors Cowhide Vest?
Do not worry as we will cover all the questions.
Formal Brown Leather Vest
We will start with the most common use, which everyone is familiar with. The leather vest for men is used in a three-piece suit for formal clothing such as going to work, a conference, a meeting, etc.
This can be worn at weddings, but we would recommend another outfit which is more appropriate for marriage. Here every item of clothing has slight variations in color, as seen in the picture, which is a lighter shade of gray.
You have to follow this principle when doing any other color of a three-piece suit. But, of course, it has to be a little lighter while the shirt must be white; decide to tie it based on your chosen color.
The Casual look
Sometimes you would go across the street for a cup of coffee or meet up with your friends and colleagues. You should know how to flaunt a vest casually for these hangouts, like the one pictured above. There are no established rules or regulations to follow regarding the color, fabric type.
Just put on one with versatile qualities, like being black, brown, or blue and not having too much of a serious tone. I like this Walking Dead Daryl Dixon Leather Vest, versatile and erring on the casual side.
The vest you will purchase also does not need to be too chic; a simple one will do better as it is already getting the attention. It is essential that the shirt underneath fits you nicely if you want this to work great.
With Jeans
The key to wearing these with jeans is first and foremost to consider their sizing. It must be fitting on you well without looking baggy. Secondly, you have to determine your goal when coming up with your outfit. Is it to get a casual look, or do you want a semi-formal look?
You have to follow some principles for the first look to get that 'laid-back look, like unbuttoning the last button, bringing a brighter one, etc. The best example where this is executed impeccably is the Back to the Future Marty Mcfly Vest.
However, you would want one with a bit of washed-out light color like the one in the picture above for the latter. Moreover, both the vest and the trousers should be tailored to fit you nicely and give you that neat look required in semi-business settings.
The Western Look
The cowboy symbolizes bravery and is a unique identity of Northern America. We often see people flaunting the cowboy or western look. However, that look is impossible without a genuine leather vest for men.
One of the best western styles as seen in Agents of S.H.E.I.L.D. But, again, The product should not be complex or anything. A simple brown-colored distressed leather is all it takes to generate it phenomenally.
However, what you wear with it is paramount. The shirt, pants, boots, and, most importantly, the hat match the cowboy look.