Black Leather Jacket Combination With Blue Jeans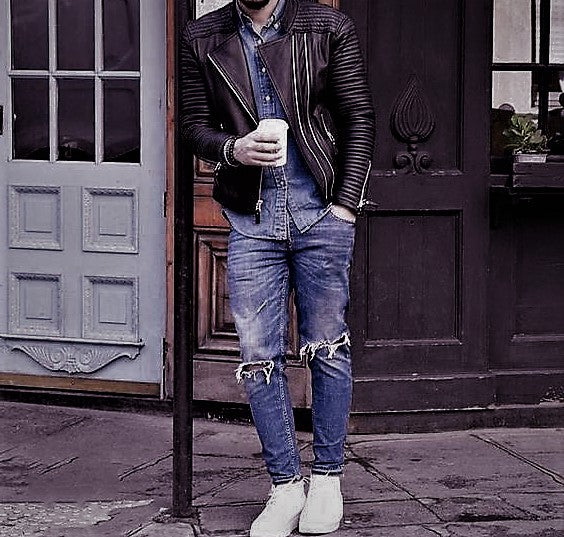 We all have our preferred combination of outfits for different occasions and weather. Light shaded shirts with dark jeans, faded denim with dazzling t-shirts. Roll neck sweater with straight pants or a leather jacket on a plain white shirt and regular blue jeans. And I guess we all love this conventional combination for all occasions. Don't we? You can enjoy this combo at a party, on a cozy dinner date, or while hanging out with folks, or even at a business meeting. Just add a leather jacket to this combo, and here you go! Your simple outfit is taken to the next level with that leather jacket.
However, shape, color, and fabric make the outfits unique. But matching and combining perfect costumes in the best way is an art. When we talk about blue jeans and a black leather jacket, I guess we all believe that this is the most suitable combination. We would indeed talk about how it looks, but first, let's see how color psychology interprets these two colors and their combination.
Black
The color black has a fascinating history. Yet, very few of us know how it made its way from the color of government officials to the runway themes. Earlier, it emerged as the color of heads of state in the 14th century in Europe. But, it took six centuries to become a color of high fashion. For the Roman Realm, it was the color of grief and mourning. For centuries, repeatedly, it was correlated to evil spirits, witches, death, and magic. The West simultaneously links it with black charm, violence, power, grace, and elegance. So basically, the Black color attributes to hold and power, strength, and grace when it comes to wearing it. And what could be a better outfit in black to flaunt than a leather jacket, Right?
Blue
Blue is considered the color of harmony, confidence, serenity, and loyalty. That's the reason the most common outfit in the world today is blue jeans. The best-selling color in jeans worldwide is blue. People find relaxation and a sense of peace from their dressing; therefore, pick a pair of blue denim. It gives physical and mental relaxation by lowering stress.
The Classic Combination for All Times
Black symbolizes power, rage, and control. Nevertheless, blue is there to add in some calmness. Black is audacious, and blue signifies coherence, so this arrangement produces a balance. Besides the color psychology, it always looks terrific. Black Moto Leather Jackets Or Black studded cowhide articles look fantastic over light blue or even dark blue jeans. So if you are looking for a timeless style, this is the right choice to go for as it is not getting out of fashion anytime soon or maybe ever! Also, it doesn't overcook your personality, making you look even more classy and stylish.