Why to Buy Men's Leather Gloves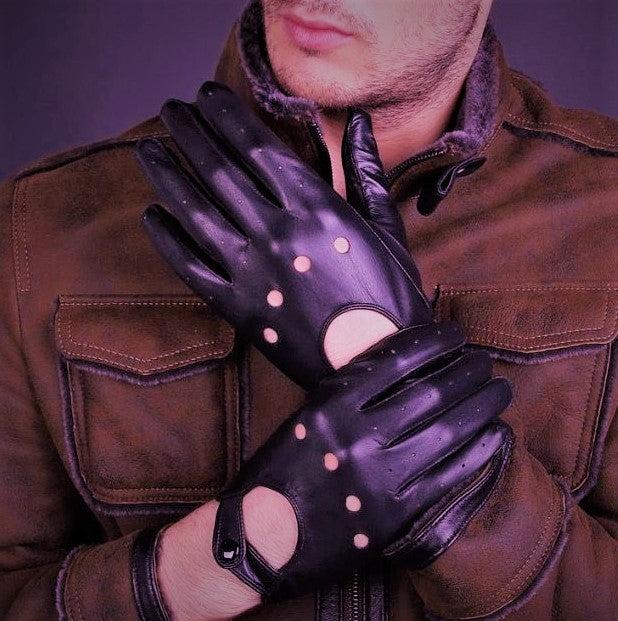 Men's winter gloves are made of many types of leather, but not every kind of natural leather guarantees the highest quality and comfort. Leather gloves must be durable, soft and elastic, and most importantly, comfy. Lambskin is best for gloves because it is warm and soft to the touch and 
Daywear Gloves
Daywear gloves focus on functionality and style, making them an excellent accessory to show off. They are manufactured from high-quality leather and are available in a thin, slim-fit that works well for different jobs.
Driving Gloves
It is not difficult to find the perfect pair of leather driving gloves. These gloves have large holes along the knuckles that provide ease to the control on the wheel. Unfortunately, they do not offer insulation.If your job requires long drives, racing gloves are the best to invest in.
Leather is more Functional.
Leather is famous for its functionality and durability. Of course, there are other materials such as faux leather or wool, but leather is far more functional as it resists high temperature, flame, fire, breakage, and friction.Leather's comparatively tough exterior saves you from cuts, splinters, and injuries that can hurt in high-risk jobs.
Cowhide Leather
Cowhide is a cheaper leather. It's robust and a bit less flexible. Cowhide gloves are suitable for those who want a quick and easy option. 
Peccary Leather
Peccary leather is the best kind, in my opinion. It is supple, flexible, and durable and keeps your hands cozy for a long time.
Hair Sheep Leather
Hair sheep leather is thin and has an extra resistance to wear and tear. Articles made from this type of leather are expensive and exemplary.
Pigskin, Deerskin, and Buffalo Leather
Though pigskin is thick but has a softer feel, the primary advantage of pigskin leather is that it doesn't stiffen after getting wet.Deerskin is soft and offers better flexibility than other options. In addition, it won't overheat your hands as compared to others. Buffalo leather is rough but breathable and has better abrasion and puncture resistance.
Stay Stylish with Men's Leather Gloves
There are many advantages of wearing leather gloves, as they are adaptable to the weather, fashionable, and can protect your hands from injury.
How to Combine Men's Gloves with the Outfit?
It is best to match your gloves with the color of shoes, watch strap, and belt. You can also think of matching your gloves with the color of your hat or scarf. You can create your elegant style by matching your gloves with a coat. You can combine more colorful gloves, like yellow and red, with a black coat or jacket. Black or brown gloves are the best match for a brown or dark beige coat.
To wear gloves correctly, remember the following points
the more sleek men's gloves are, the better they go with formal combinations; your gloves should be made of organic materials – lambskin offers an ideal price-quality ratio, leather gloves are the most practical – they never go out of fashion, you can flaunt them with many styles of clothing.